WP2 Management of experimental procedures
Quality methodologies for technology-transfer support
Failure mode and effect analysis (FMEA) is an established risk analysis tool widely used in industrial field since 1950. More recently its use is foreseen in Quality management applied in health care. In research laboratories FMEA can be a useful methodology to drive the adaptation of laboratory processes to an industrial approach, when a technology transfer is envisaged, helping to anticipate and deal with production aspects and requirements. The processes are first described using a flowchart followed by a quantitative assessment of the risks associated with the most delicate operations and improvement actions. Particular attention is paid to adapt the FMEA risk index to the research context, because most of the operations carried out in the laboratory are not automated. This approach would lead to several major advantages:
generation of a set of improvement actions covering most lab aspects, such as management of instrumentation or training of personnel involved;
contribution to the definition of good laboratory practices;
promotion of the interaction between research and industrial worlds, and facilitation of technology transfer as a consequence of the using of a common language.
The figure below describes the different phases of the WP, utilizing the Plan-Do-Check-Act (PDCA) Deming circle.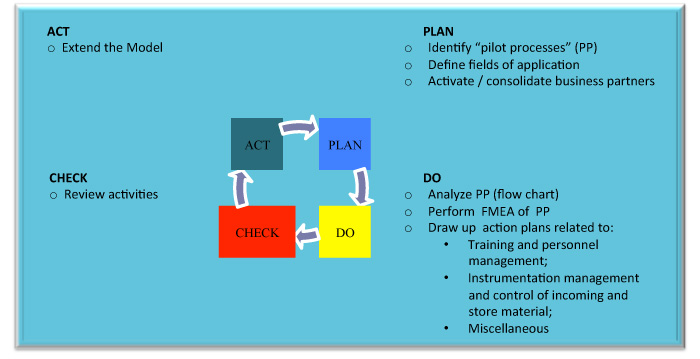 Last Revision 17 July 2014
Document Actions