WP1 Management of knowledge
Definition of guidelines for research laboratories and development of a web platform for the cataloging and dissemination of guidelines, experimental procedures, model systems and molecular tools
Biological research is undergoing profound changes, driven by powerful emerging technologies and global economic forces. In this context of constant change, there is an increasing necessity to define adequate standards and to identify and validate general guidelines for scientific activity. Guidelines are tools put at the disposition of a community of users providing valid indications for proper conduct in a laboratory environment and proper use of instrumentation and procedures. In addition, guidelines are a useful support for the education and training of laboratory personnel and for aligning and standardizing the procedures used within an institute or organization, or among different institutes. The identification of guidelines is also one of the basic steps for the training of personnel and the Quality Certification of a laboratory. The objectives of this WP are:
identification of adequate standards for the drafting of guidelines in Life Sciences, according to Quality Principles, and for the description, cataloguing and sharing of scientific data;
definition of guidelines for specific activities in a Life Sciences laboratory and for the design and validation of experimental procedures;
development of a web platform for the collection, cataloguing and dissemination of the scientific information provided by researchers working in Life Sciences inside the CNR.
Our final aim is to provide powerful tools to promote the homogeneity of procedures, cohesion and collaboration among CNR institutes and with others Institutions. These objectives respond to a strong demand for the identification and diffusion of standard procedures for research laboratories, which should be clearly assessed and validated to increase the efficiency of laboratory activities.
The figure below describes the different phases of the WP, utilizing the Plan-Do-Check-Act (PDCA) Deming circle.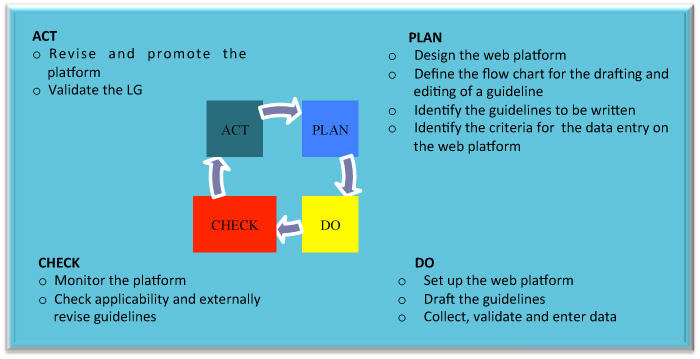 Last Revision 17 July 2014
Document Actions